An accurate property valuation you can trust
We'll help you to find the value of your property, so you can find a buyer or tenant as soon as possible.
Enter your details below to book a professional appraisal.
Interior design trends that might help sell your home in 2023
If you're thinking of selling your home in 2023, now would be a good time to think about giving it a bit of a make-over. After all, when the viewings begin, you'll want it to look clean, fresh and fashionable!
Most experts believe that when you sell a home, you are also selling a lifestyle. And if your home is 'on trend' you might just improve your chances of a quick sale at the best possible price.
But what will be in Vogue next year on the interior design front?
With more of us fearing for the future of the planet, a delicate green is still at the top of the colour charts with saturated blue also being predicted to be popular, according to Interiors specialists, Hovia.
And continuing the natural theme, terracotta, rust and other earthy tones are expected to make more appearances as pairing colours next year.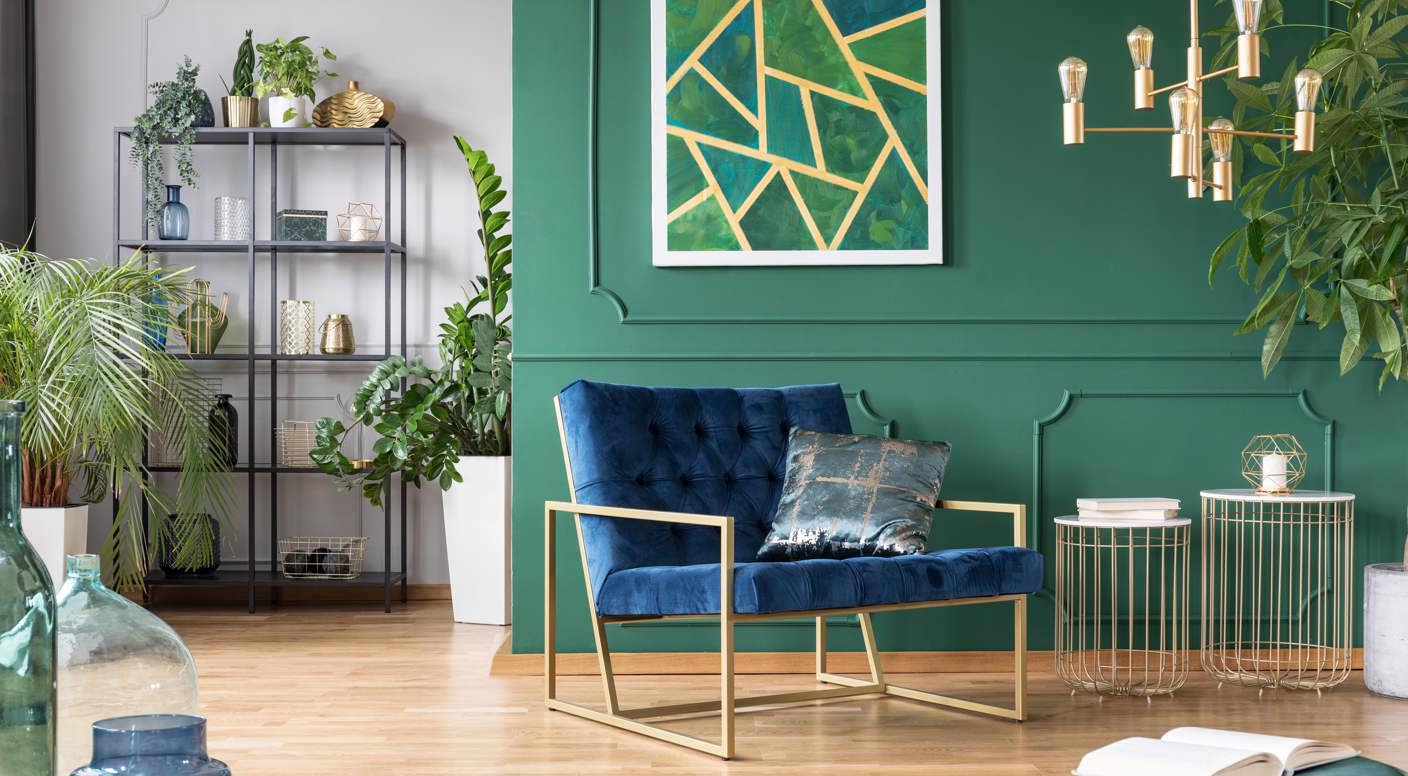 Listening corner
It's no surprise that many design experts are forecasting a surge towards the 'warm and cosy' look.
Soaring fuel bills have made us all long for comfort in our own space and this reflected in people's choices of colours for fittings where gold has overtaken the colder silvery shades of stainless steel and nickel.
The growing popularity of vinyl records has sparked some interior design experts to predict an increasing number of dedicated music rooms next year. And while not every home is large enough to allow for such luxury, most, according to Good Housekeeping, might be in a position to create a 'listening corner' where we can relax and listen to our favourite sounds and drift away.
Restful haven
And while we're relaxing to the soothing strains of our favourite artistes, we might consider more ways to bring the outside indoors – because that trend is predicted to continue through next year and beyond with indoor gardens, interior window displays and planters. House plants have been big business on Instagram this year, and according to Yahoo.com, Watermelon Peperomia and Gold Pothos are among the species ready for take-off (or should that be, 'rake-off?).
Straight edges and perfectly angled geometrical shapes are expected to wane in popularity to be replaced by soft and gentle curves. So, a curved sofa or coffee table might be just the thing to round off the new look living space.
And finally, bedrooms are set to become sanctuaries. According to Woman and Home, the consistent prediction across the board is that people will be intent on creating a restful haven and a space for relaxation and thoughtful moments rather than simply a good night's kip.
There is a common theme in all these predictions, and they seem to reflect what we are all looking for next year: to be warm and cosy and feel closer to Mother Nature. And we can all have designs on that.
Here at Farrell Heyworth, we operate in the busy North West towns and villages of Barrow in Furness, Morecambe, Lancaster, Garstang, Cleveleys, Fulwood and Chorley.
We encourage all our customers to register with our My FH portal, which will give you access to the most up-to-date information; remotely and at your convenience.
You can also find out how much you could sell your property for by requesting a free and instant online valuation today.
Related Posts
Introduction to No Deposit Mortgages No deposit mortgages, also known as 100% Loan to Value (LTV) mortgages, provide a unique…
November 28, 2023
Experience the Magic of Christmas The Christmas markets in the North West are more than just shopping destinations; they are…
November 20, 2023
Strategies for Achieving the Best Sale Price Partnering with a distinguished local estate agent, such as Farrell Heyworth, is a…
November 20, 2023