An accurate property valuation you can trust
We'll help you to find the value of your property, so you can find a buyer or tenant as soon as possible.
Enter your details below to book a professional appraisal.
Farrell Heyworth
Estate Agents Lancaster
Number one estate agent in Lancaster.
Your local estate agent, and property expert in Lancaster.
Farrell Heyworth have been trusted in Lancaster, and the North West for over 30 years. With several offices in the region and more than 100 employees working hard every day to ensure your property gets seen by the right people at the right time.
Where can you find us?
Our welcoming Lancaster estate agency branch is located in the centre of Lancaster. You can find us half way down New Street, which runs behind the City Museum and Church Street.
Branch Opening Hours
Tuesday:
9:00am – 17:00pm
Wednesday:
9:00am – 17:00pm
Thursday:
9:00am – 17:00pm
Saturday:
9:00am – 14:00pm
Why choose Farrell Heyworth to sell your property in Lancaster?
We have a deep understanding of the local housing market in Lancaster and a proven track record of success - gaining thousands of fantastic independent reviews along the way. Our well-trained team pride themselves on offering our customers the absolute best Lancaster estate agency service, an unrivalled dedication to always go above and beyond, making the buying and selling process as seamless as possible.
Whether you are looking to buy, sell, rent, or let a property in Lancaster, we're working longer and harder to help. Our expert team offer a wealth of local and industry experience and we combine this with the very best that technology can offer to give you a fantastic experience, so please visit our office to find out how we can help you sell your Lancaster property. Alternatively, call us on 01524 842222, or get started IMMEDIATELY by registering your My FH account and find out how we can make your property transaction faster and more convenient.
We also offer a range of complimentary services including valuations, lettings & property management, independent mortgage advice and conveyancing to give you a true one stop shop experience.
As mentioned, we are proud to have been trusted in the North West for over 30 years, and as part of our commitment to you we are part of the Propertymark client money protection scheme, ensuring the safety of your funds.
View our Membership certificate.
View your Security certificate.
View the Propertymark membership rules & obligations .
What's it like to live in Lancaster?
Lancaster is a historic city located in the North West of England with a population of approximately 47,000 people. It is known for its rich history and architecture, as well as its beautiful countryside and coastline.
There are many things to see and do in Lancaster, from visiting historic sites such as Lancaster Castle and the Lancaster Priory, to exploring the Trough of Bowland and the Lake District National Park. The city is also home to a variety of cultural attractions, including two museums, several art galleries, and theatres, as well as a lively shopping and dining scene.
Lancaster is a forward-thinking city with two universities, Lancaster University and the University of Cumbria, and a wealth of fascinating history. The city offers quick access to the M6 motorway via junctions 34 to the North and junction 33 in the South. A regular train service, which offers direct services to London is also available in the heart of the City. The Bay Gateway is the newest investment which has seen transport links massively improved not only through the city centre but to Morecambe, the M6 and the Lake District.
Lancaster and its surrounding areas offer shoppers and foodies alike a diverse range of retail experiences and high-quality restaurants.
A purpose-built cycle track runs alongside the River Lune, which takes you all the way through Lancaster up to Glasson Dock.
Our Lancaster estate agency branch offers a diverse range of properties covering all budgets, ranging from student let investment opportunities to luxury homes in rural areas and new build developments. As well as marketing properties in Lancaster we also serve the adjoining villages of Caton & Brookhouse, Quernmore and Galgate. Lancaster is a fantastic place to live and invest in. Property values are held extremely well, with further investments such as the Eden Project a few miles away, this is an incredible place to buy your next property.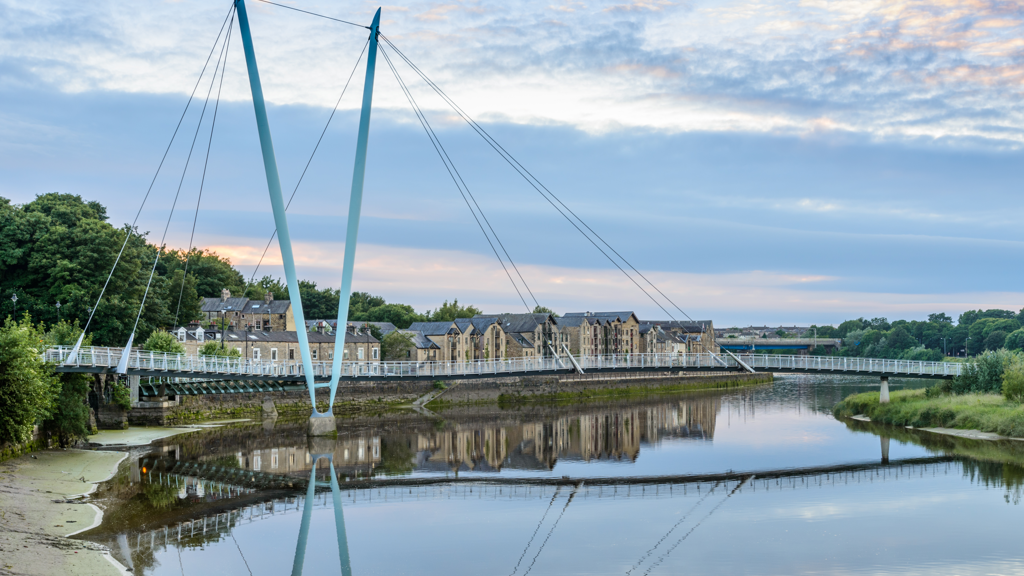 18 New Street, Lancaster, LA1 1EG
Our Fees
Sales Fees
Contact branch for full details of our fees
Landlord Rental Fees
Tenant Rental Fees
Reviews
Ready to make your move?