An accurate property valuation you can trust
We'll help you to find the value of your property, so you can find a buyer or tenant as soon as possible.
Enter your details below to book a professional appraisal.
Give your property a marketing BOOST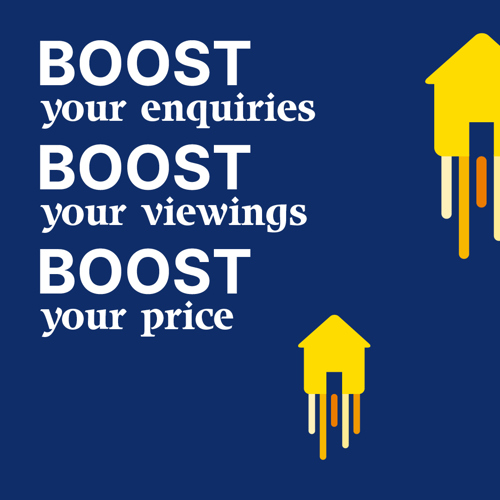 Rocket fuel for property sales
Don't just put your place on the market. Put it in front of an active, interested audience. Put it on everyone's must-see list. Put it in pole position for a great offer. It's what BOOST was made to do.
BOOST your enquiries. BOOST your viewings. BOOST your price.
BOOST is our exclusive property marketing service that offers many of the features you might expect – from photographs and floorplans to brochures and for sale signs – as well as a few more sophisticated features you might not:
Anyone can put a post on Facebook. But it takes expertise, time and hard work to harness our data, target the right audience and craft an advert that will engage and excite potential buyers – capturing their interest and prompting their booking.
More micro-website than traditional brochure, the i-Pack brings together all the key details – photos and floorplans, local amenities and market insight – into one interactive buyers' guide. Available through our site, it's ready to share through adverts and send to potential viewers, bringing vital information closer to your target market.
Grab your audience off their sofa and drop them in your property, with 3D virtual viewing that goes beyond the usual images and clips to put them in control – letting them explore your home from the comfort of theirs.
Rightmove Advertising
Photography
Video Tour 
Floor plan
Printed brochure & for sale boards
BOOST plus
BOOST with added oomph
Boost Plus is our premium marketing package: We'll take all the elements of Boost and add a few extra ingredients to send your property marketing stratospheric.
Enhanced social media advertising
All the careful targeting and expert placement of our BOOST social media campaign, but turbo-charged to give you double the exposure and engagement – reaching further and faster to find your buyer.
Putting your Rightmove advert to the top of the pile, with an enhanced listing that offers an average of 20% more views – bringing more buyers to your door.
Also includes BOOST features:
i-PACK digital brochure
Virtual viewing
Photography
Video Tour 
Floor plan
Printed brochure & for sale boards